MARSEILLE-JERUSALEM, April 19, 2023 – Genoscience Pharma a clinical-stage biopharmaceutical company that develops disruptive therapeutics for the treatment of cancer patients, announced today a new research agreement with Yissum Research Development Company of the Hebrew University of Jerusalem Ltd., the wholly owned subsidiary and technology transfer company of the Hebrew University of Jerusalem.
The collaboration aims to expand the development of PROTAC technology on investigative Genoscience agents, which can increase the potency and selectivity of small molecule drugs and overcome cancer resistance to existing therapies. Overall, PROTAC technology has the potential to enhance the activity of small molecule drugs and broaden the range of proteins that can be targeted for therapeutic purposes, providing a new avenue for drug development.
The research will be led by Professor Raphael Benhamou, Ph.D., at the Faculty of Medicine of the Hebrew University of Jerusalem. Prof. Benhamou is an internationally recognized researcher who develops tools for targeted degradation therapy of RNA complexes associated with diseases. The development of targeted degradation therapies has transformed the treatment and improved clinical responses of patients with many types of tumors. However, effective targeted therapies for difficult-to-treat cancers are still lacking, and new therapeutic strategies are needed to prevent relapse and metastasis in these diseases.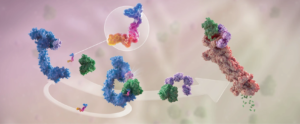 Photo credit: Nature Reviews Drug Discovery 21,181–200 (2022)