Scientific Advisory Board Meeting during ASCO 2019
Chicago, USA, June 3, 2019 — Genoscience Pharma held Scientific Advisory Board during ASCO meeting in Chicago. Genoscience Pharma gathered Pr Ghassan K. Abou-Alfa, Pr Ahmad Awada, Dr Jim Harding, Pr Juan Valle, and Pr Eric Raymond, key opinion leaders in field of Digestive and Medical Oncology.
Beside discussing updated data about the mechanism of action of our main asset, the discussion mainly focused on the ongoing global clinical trial and its future. Particularly interesting patients' cases were reviewed and discussed.
Decisions were made to open additional centers, but most importantly the Board proposed and agreed to extend the inclusion criteria to patients with secondary liver cancers, including pancreatic and colorectal cancers.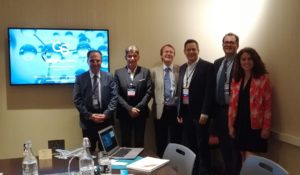 From the left to the right:
Pr Ahmad Awada, Head of Medecine Department and Medical Oncology, Jules Bordet Cancer Institute, Brussels, Belgium
Pr Philippe Halfon, CEO and Founder of Genoscience Pharma
Pr Eric Raymond, Head of Medical Oncology Unit, Saint-Joseph Hospital, Paris, France and Chief Medical Officer at Genoscience Pharma
Pr Juan Valle, Private Oncologist, The Christie NHS Foundation Trust
Dr James J Harding, Medical Oncologist, Memorial Sloan Kettering Cancer Center, New York, USA
Dr Cindy Khaldi, Translational Science, Genoscience Pharma