Scientific Advisory Board Meeting during ASCO 2018
Chicago, USA, June 4, 2018 — During the last ASCO meeting in Chicago, the Scientific Advisory Board of Genoscience Pharma met once again to discuss further the scientific strategy and pathway for the company.
Key opinion leaders in Oncology and Liver Disease reiterate their support for Genoscience Pharma to evaluate GNS561, our most promising compound, in liver primary cancer patients in an international Phase 1b/2a clinical trial. The SAB confirms the unique potential of GNS561 for clinical development.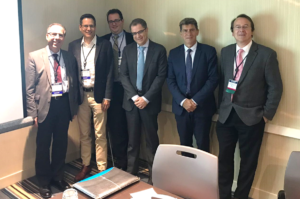 From the left to the right:
Pr Ahmad Awada, Head of Medecine Department and Medical Oncology, Jules Bordet Cancer Institute, Brussels, Belgium
Pr Juan Valle, Private Oncologist, The Christie NHS Foundation Trust
Dr James J Harding, Medical Oncologist, Memorial Sloan Kettering Cancer Center, New York, USA
Pr Ghassan Abou-Alfa, Medical Oncologist, Memorial Sloan Kettering Cancer Center, New York, USA
Pr Philippe Halfon, CEO and Founder of Genoscience Pharma
Pr Eric Raymond, Head of Medical Oncology Unit, Saint-Joseph Hospital, Paris, France and Chief  Medical Officer at Genoscience Pharma