Genoscience Pharma Extends to US its Clinical Trial in Patients with Advanced Liver Cancers
Marseille, France, October 5, 2018 — Genoscience Pharma announces today the extension to US of its Phase 1b/2a clinical study with GNS561 in advanced liver cancers (cholangiocarcinoma and hepatocellular carcinoma). In October 2017, GNS561 received an IND for an international clinical trial involving up to 50 patients with liver cancer.
Opened Clinical Centers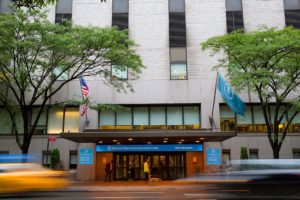 Memorial Sloan Kettering Cancer Center (MSKCC) – New York, USA – enrolled its first liver cancer patient in the ongoing Phase 1b/2a clinical trial to evaluate the safety and efficacy of GNS561. MSKCC is one of the five clinical centers participating to patients' recruitment in our study, with Jules Bordet Institute (Brussels, Belgium), Saint-Joseph Hospital, AP-HP (Paris, France), Croix Rousse Hospital (Lyon, France), Hospitalo-Universitary Center of Grenoble (Grenoble, France).
MSKCC
Memorial Sloan Kettering Cancer Center — the world's oldest and largest private cancer center — has devoted more than 130 years to exceptional patient care, innovative research, and outstanding educational programs.